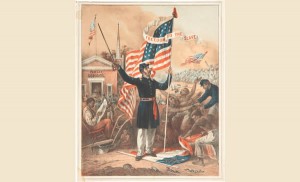 We're happy to report that The People's Contest will be joining the roster of Anvil's Built Upon digital collections. From the project's mission statement:
The People's Contest is directed by a team of scholars and librarians to advance scholarship on the Pennsylvania home front during the Civil War era. Through the archive and website, researchers have access (1) to bibliographic records for collections residing at libraries, archives, historical societies, and museums throughout the state with an emphasis on technologically hidden and unprocessed collections; (2) to images and transcriptions of research materials; and (3) to interpretive essays, scholarly projects and links to outside sources.
I also wanted to remind everyone that the deadline for Built Upon submissions is fast approaching (January 22)! Be sure to have a look at our CFP here.
And, if you have any questions about your own proposal or about the Built Upon concept in general, take a look at our FAQ or contact editor Fred Moody at fmoody@anvilacademic.org.